echo date('d.m.Y',strtotime($post->post_date)); ?>

·

By Majo Siscar (México) / Translation: Blanca García Bertolaza

180 organizations travel in the Peace with Justice and Dignity Convoy around the country's most violent spots getting together with the victims of the war on drug trafficking
We travel with them, listening, watching how they share their grief, and in many cases, how they are heard, comforted in their grief for the first time
"If I end up dead one day, I'll be grateful because I'll be going with my sons", Bibian Echevarría heartbreakingly blurts out in Durango's main square, in Northern Mexico. Her three sons, Luis, Hugo and Miguel, 27, 22 and 20, went out to have fun and were murdered. The only explanation: "We are sorry madam, your sons were good, it was a mistake". A "mistake" that remains unpunished under the wing of the war on narcos implemented by president Felipe Calderón that has already killed more than 40,000 people since 2007, most of them the same age as Luis, Hugo and Miguel.
Bibian's words join dozens of testimonies from parents, children, siblings, friends or partners who were murdered and disappeared, who, like a never-ending stream of horror and death, are discovered as the Peace with Justice and Dignity Convoy passes by. This initiative, driven by 180 social organizations, wants to make society aware and put an end to the violence that is terrifying most of the country.
That's why 14 buses and 25 cars left Cuernavaca last Tuesday, capital of the state of Morelos, where on March 28th Juan Francisco Sicilia, son of the poet Javier Sicilia, was murdered along with six other friends. That father's sorrow has crystallized the grief of a wounded society and after two months of local demonstrations, it has been channeled into a pilgrimage through the states harder hit by the violence in which they try to bring all those atrocities to light, often darkened by the fear of being persecuted, marked, stigmatized.  That way, the route of fear has turned into the route of "consolation", as Sicilia named it. "This war, crime, our government, fractured us, they lead us to silence and lack of unity. But this convoy that springs from the grief, from the offenses, from the dead, and that is getting a lot of victims together, this convoy speaks of comfort, of being with the other one's solitude", said the poet, who tries to bring society together so that it gets organized
against crime for itself. The convoy will arrive on the 9th to Ciudad Juárez, the country's most hurt city. There, a citizens' agreement will be discussed and signed. It sets six essential points to get the Army off of the streets, put an end to immunity and corruption, regain the memory of the victims, give young people opportunities, strengthen the democracy and rebuild the social fabric.
"This convoy is about comfort, about being with the other one's solitude"
But in a country in which the shadow of doubt falls upon the dead, where fear is the way to silence desperation, the first step is for the victims to unburden themselves and meet each other. The
testimony of the victims' relatives is joined by dozens of people who want their dramas to be heard, which get more intense as they head north. On Monday, in Durango, the first northern state the convoy gets to, a six year old boy went to welcome Sicilia with his mother. They put up with the five-hour delay, until 9 at night, in a van in the middle of a city where normally people do not leave their houses after dark. Francisco Fernando Rodríguez carried his father's picture, after whom he is also named. He was shot to death.
In this city's schools, kids the age of Francisco Fernando learn to throw themselves to the ground if there is a shootout, they know if they are being followed by a van and they talk to each other about the dead unburied from the narco-pits every week. Two hundred twenty eight corpses from April to June according to official data. Many more, according to local journalists. Of all of those, only one has been identified until now, but dozens of relatives show up at the forensic lab looking for answers.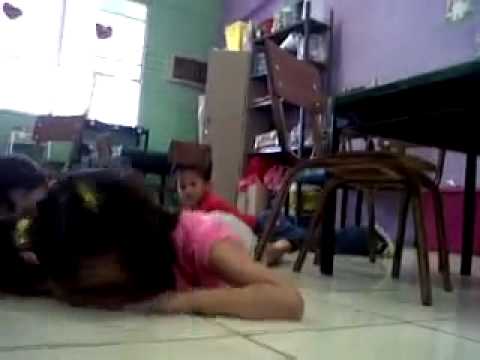 [This video showing a teacher enthusiastically teaching the kids a song while there is a shootout outside in which 5 people died, in Monterrey, became world-famous a couple of weeks ago]
Diana Jacobo was one of them. She is looking for her husband, Abraham Salazar, kidnapped by the state police last April 1st. According to an eye witness, the officers arrested him in a police post inside the city, they beat him and took him. Abraham did not have an arrest warrant, no one asked for a ransom, he was just disappeared. Now, Diana takes part in the convoy with the hope that it will bring her husband back. Her two kids and several of her husband's cab-driver colleagues are with her. They all agree that the police is working with the criminals, and that the officers themselves steal, extort and assault.
But in this war, like in others, there is not a good side and a bad side. The convoy is also made up of policemen's relatives, killed or missing in this trickle of blood. Like Ofelia Castillo, whose son, Edgar Humberto Quesada, local policeman in Calera, Zacatecas, has been missing for a year. On July 13th last year, Edgar was on duty. At 4 in the morning he was on the phone with his wife when he told her he had to hang up because "some people" had come in. He never answered the phone again. When it was time to go, his wife called the station to be told that he was in some classes.  In the
evening, a colleague confessed to his wife that he had been kidnapped by the Zetas and that the police was not going to do anything about it. In fact, Ofelia asked her son's bosses for an explanation and they did not even pick up the phone. The attorney had the nerve to tell her: "don't worry, he must be working with them and he will make good money". Ofelia wants to know but she doesn't dare to ask anymore. She is scared. Her own husband did not want her to go meet the Zacatecas convoy, but she decided to go alone. For her son and for her two grandchildren, 15 and 8, who are practically orphans.
"Ofelia wants to know but she doesn't dare to ask anymore. She is scared."
Like Francisco, like so many other kids, like María Herrera's five grandchildren. This woman from Michoacán has four missing sons. Every night she imagines their faces, hoping to see them again, although she knows that is not easy. The first two to disappear were Raúl and Jesús Trujillo Herrera, last seen on August 2008 in Guerrero state, where they went to buy gold to sell later on in their town, Pajuacarán. The buying and selling of jewelry is the biggest source of income in that place, but to get it they have to travel all over the country, facing roads and towns where crime is the only law.  Two years later, in September 2010, Gustavo and Luis Armando disappeared on the way to Veracruz. María's family has looked for them everywhere, they have reported it to different authorities, but not only have they not given them answers, they have hindered the investigations. However, María does not give up. In her community, there are 15 more young men missing while they worked buying and selling gold. "Today it is them, but tomorrow it can be you and we have to put an end to it, we have to support each other", asserts María, visibly moved, in the same square in Morelia – the state's capital – where in 2008 eight people were killed by the explosion of hand-grenades in the course of a popular festivity.
"We walk among the remains of the dead, and their death hurts more than our own life, and I ask Calderón, are there collateral casualties?" exclaimed Sicilia to the hundreds of moved citizens of Durango who for once defied the implicit curfew. She pleaded for a unitary demand of justice and "if necessary, organize a boycott, civil disobedience, until we change the institutions". In this sense, she gave the example of Cheran, an indigenous purépecha community in Michoacán state, who after years of harassment form criminal groups paid by the timber merchants who are destroying their forests, they decided to close down every access to their community with barricades and bonfires. Meanwhile, they move forward in their autonomy project according the ways and customs of the native Mexican peoples. " 'Enough' to us means reflection, meeting, union, conscience", expressed the Cheran commoner.
And that reflection and organization is happening in the heart of the convoy. The faltering voices and bleary looks become embraces and their stifled cries are channeled into a single one: 'Stop the violence'. For that, besides the events in every city, they swap experiences and discuss the proposals during the trips, the rests and the meals. The deepest work will be done in Ciudad Juárez but when that moment comes they will already have traveled over 3,000 kilometers in this route of grief and hope. For now they still have to visit Saltillo, in Coahuila state –where dozens of corpses have also been unburied from narco-pits-, Monterrey, the country's second most important city that has become a trench in the last couple of months, and Chihuahua, the capital of the state where Juárez is. There, they will go to the door of the government house where, last December, activist Marisela Escobedo was murdered while demanding justice for her daughter's feminicide, to remember them, to condemn their deaths and to point at those responsible for so much pain. From town to town, they unravel the mesh of silence that perpetuates corruption, violence and impunity.
"What would happen if all this was done in every neighborhood of every town, of every state, of the whole country? Where would Mexico's criminals hide?", proposed to the crowd Julián Le Barón, a farmer from Chihuahua whose brother was murdered after leading a citizens movement that managed to free their youngest brother, kidnapped by the narcos. The suggestion is enough to silence the skeptic.