echo date('d.m.Y',strtotime($post->post_date)); ?>

·
"My mother –explains young activist Kareem El Beherey- got hepatitis C while she was working. Now she cannot pay for the treatment she needs".
Hers is not an isolated case. That is why Egyptian doctors are calling strikes and protests to demand decent wages and investment in healthcare. They do it in spite of the government having approved a law that bans protests.
One of the groups who are organizing the strikes is the "Doctors without Rights" movement, headed by Doctor Mona Mina.
"Egyptians' health is still at the tail of the State's list of preferences, in spite of being in a pressing situation", states Mina.
"Hepatitis is very common in this country and still most people with kidney disease have to pay for their medicine. There are people who cannot do it, who die for not being able to pay for a kidney transplant", complains Doctor Mohamed Shafik.
An estimated 15% of the population is infected with hepatitis C. Each year 500,000 new cases are registered, more than any other country.
Shakif and Doctors Ahmed Fayed and Mohamed Tawfik meet in Cairo to talk to Periodismo Humano.
Shakif defines himself as a man with socialist ideas, Fayed considers himself liberal and Tawkif is part of the Muslim Brotherhood's youth branch, in dissent with the leaders of the movement in some aspects, for example, regarding demonstrations and strikes.
While the brotherhood leadership is against the protests, the young people in the Muslim Brotherhood support them and participate in them.
In spite of their ideological differences, the three doctors share the same objective: a workers' movement that demands decent wages and investment in public healthcare.
With Mubarak people died in hospitals because of the lack of public services. Without Mubarak, this is still happening. The only difference, for now, is that now I can criticize the government, but my message will not be spread in most newspapers", protests Doctor Shafik.



Manshiet el Bakry hospital, in Heliopolis, in the outskirts of Cairo, has become an icon of a new model of workers' union, creating the first union in Egypt formed by all the employees, from doctors and nurses to transport and cleaning staff.
They voted, they decided to kick out the director –who they accused of being a servant of the regime- and they chose a new manager, a Coptic Christian among a Muslim majority.
"I was in Tahrir square during the 18 days of the revolution. And that was unique, for me the most exciting and moving thing that I have ever seen has been how the nurses, cleaners, workers decided in an assembly how to manage the hospital's money, after so many years of corruption", explains Mohamed Shafik, who is now advising other medical centers to set up similar unions.
The three doctors, who work in different hospitals, have a basic wage of 50 dollars a month. Sometimes they work one hundred hours a week to be able to earn bonuses and have a decent life.
"If I get sick I won't be able to support my family. I could try to go to a private center, but I believe in public healthcare, in the need to commit to it", indicates Doctor Shafik. And he adds:
As a doctor, if you have morals, you will always be poor. Meanwhile, there is an elite that controls master's degrees in universities, medical schools, who open up hospitals, clinics, who make money. But that does not help the majority of Egyptians, who cannot pay for their medical attention.
Less than a third of Egypt's medical school graduates work as doctors. This is because a lot of physicians emigrate to the Gulf countries looking for decent wages. Others end up working in other professions to pay their bills. Women emigrate less than men. That is why in hospitals like Manshiet el Bakry women hold 60% of the medical posts, in spite of the fact that more graduates are men.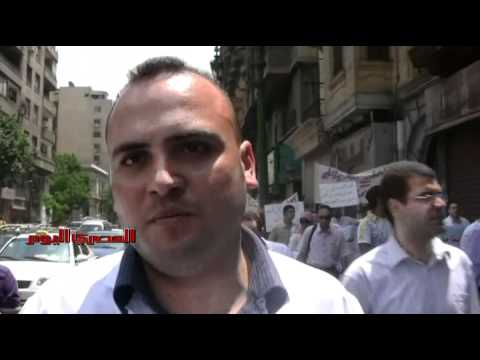 (Video: doctors' strike last May 29th. Doctor Shafik, among others, gives declarations)
"I do not want to emigrate – indicates Doctor Fayed-. It would be like abandoning my country, in the worst sense of the word. Some media outlets accuse us of being selfish for calling strikes. They present doctors as if we were all rich. They do not realize that this fight is not only about our wages, but for a more just society in which people do not die of not too serious diseases".
"40% of the population lives with a dollar a day and hospitals demand that they pay for their medicine. It is cruel and immoral", adds Doctor Tawfik.
Some days ago doctors of diverse political tendencies demonstrated again in downtown Cairo and in their workplaces, wearing their white robes. They have already announced new protests.
They demand a commitment with investment in public healthcare, a minimum wage of 200 dollars and a maximum wage that does not exceed 25 times the minimum wage.
"The dignity of the Egyptians is our red line", is one of their slogans.
"In the revolts more than 800 people died, some died in our arms. That is not easily forgotten. They did not die for nothing. That is why we cannot let the new rulers kidnap the possibility of real change", points out Shakif with a moved gesture.