echo date('d.m.Y',strtotime($post->post_date)); ?>

·

By Mónica G. Prieto / Translation: Blanca G. Betolaza
Internet sitcom Just Freedom launches devastating criticism against Syria's regime and repression in a humorous tone
Created by exiled artists, it seeks to question official propaganda
On its first month if life, it has caught the interest of 200,000 viewers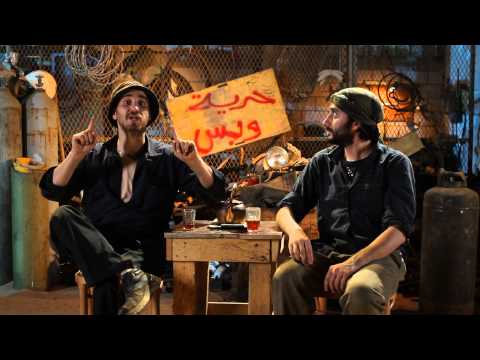 The two young men sip their tea with a blank stare, sitting in a peeled off garage. "You know what? I'd like to go out there." "Out there, where?" "There, with the people, sing with all of them", answers the first one. "You're crazy. They can't be going out just like that. That's because they are taking something". "Taking what?" At that moment a street vendor hawks his goods. "Hallucinogenic pills, I have them all! Al Arabiya, Al Jazeera, France 24, BBC… Hallucinogenic pills!" "See how it wasn't impossible?" points out the second one as he casts his eyes on the vendor.
There is no fake laughter but the audience is so into it that it bursts out on its own. The dialogue belongs to Hurriyah wo Bas, Just Freedom, probably the first series in History that dares to satirize the Syrian regime and the revolution that questions it. Although it is a sensitive issue -1,800 dead and about 10,000 arrested up to now, according to activists, are not a laughing matter- the Syrians' sense of humor and the yearning for all kinds of freedoms –particularly freedom of speech- after 40 years of Baazist dictatorship explain the success of this unexpected series that offers two weekly chapters of two to three minutes and that on its first month of life has 200,000 viewers on its YouTube channel.
Just Freedom has been described as a weapon of mass mockery, an outlet for Syrians inside and outside the country created by exiled artists –a team of between 10 and 15 people- "driven by the feeling that Syrian artists are failing to support the revolution. Most of them support the regime", explains the Hurriyah wo Bas team on an e-mail interview. "Many actors accuse the protesters of being collaborationists or Salafists", they complain.
Recently, famous Syrian faces such as actor Mohamed al Rashi or Faras al Helou have taken part in protesters' funerals, thus approaching the insurrection, but the best-known names in Syria's artist sector, used to being dependent on the regime, are still attached to it with the exception of the June 30th march held by artists and intellectuals: 200 were arrested to be released later.
The Damascus propaganda, whose official media outlets–the only ones in the country- show the insurrection as an attempted Islamist coup d'état with external funding, is another one of the targets of the Just Freedom troupe. "We try to make people aware that the media is questionable and that the regime gives information that contradicts the reality on the streets. We try to make the facts available to the Syrians who are in doubt or who have not gone out on the street because of confusion and misinformation".
They do it using irony, or even sarcasm. The two main characters are reflecting in their garage when one of them asks: "What does infiltrator mean?", referring to how the regime calls the protesters. "It means that when you take the streets with your head held high, you demands are legitimate". "I don't understand", answers the first one, nodding his head. "I'm going to show you: you get out on the street, hold your head up high, raise your fist and cry out. Just freedom!", he says, standing up and theatrically staging a protest. A shot immediately takes down the boy who drops dead in front of his friends, who says: "Ahh. That's an infiltrator".
Is Just Freedom a way of activism? "We do not want to combat the regime, we just want the people's demands to be met. Syrian dramatic art, specially television and films, has been important in the Arab world and has always been present in people's everyday lives, that is why we are surprised that it has failed this revolution", they continue.
The series' success has overwhelmed them. "The figures have gone over 200,000 viewers in one month only in our official channel, but that is not an indicator because other YouTube channels and satellite TVs are broadcasting episodes", explain the people responsible, who do not identify themselves or say where they are working from for security reasons.
It is unlikely that Just Freedom is being followed inside the country controlled by Bashar Assad's dictatorship, as they explain themselves. "It is not spreading in Syria because of the restrictions the Government puts on the Internet. It saddens us that the Syrian streets cannot watch what we are producing".